div>
NOTE replacement straw
🏀REMOVABLE & LONG TO BOTTOM STRAW GREAT TO DRINK🏀 Fashion huge water bottle, half gallon water bottle with straw, make drink water simple, easy-clean. Reusable water bottles with reusable straw long enough to help you keep hydrated easily, no need to tilt, no leaks, no smell. KEY: Super fall resistant.
⚽AMAZING VARIOUS STIMULATE MARKINGS & 64OZ BIG CAPACITY⚽ Big water bottle with time markers & sayings & ounces, equal to 7 or 8 cups water without always refill, save your time and stay hydrated all-day. Inspirational water bottle with time marker & oz markings track your daily water intake, clear water bottle with times motivation & measurements really motivate you to drink more water frequently. Get over any symptoms, stay healthy.
🏀HUMAN DESIGN WITH DURABLE ULTRA LARGE HANDLE🏀 The biggest/largest wide handle pretty for your hands(all fingers) to grip. 64 ounce water bottle with handle to make hand-cozy when full water. Huge water bottle with handle support large amount of water and shatterproof of many tests. Very druable, sturdy and portable, help you handy to drink more water. Good as gym water bottle for men/women.
⚽REDUCE WATER BOTTLE CAPS REPLACEMENT⚽ The top lid perfect connected with big cap that very sturdy & won't lost. Leak proof screw cap, more secure put in your bag, Also, has ultra wide mouth water bottles, easy-clean, easy-add ice cube, fruit or lemon wedges. Help you safe & quick to get more water.
🏀100% SOLID SATISFACTION GUARANTEE NO WORRIES🏀 BPA free water bottle dishwasher safe, made of green safe material. More fall resistant and accept 90°C water compare with others. Any issues will be perfectly solved, pls contact when having in trouble.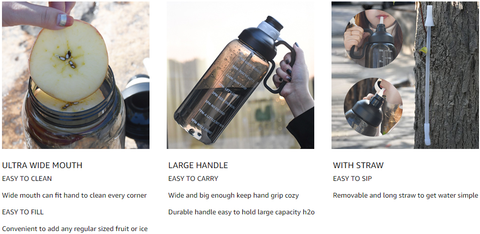 IDEAL FOR ANY OCCASION "GIFT"
choosing a selection results in a full page refresh